2017 started out like many years – with me desiring to make the most of my time and energy. So I signed up for Michael Hyatt's course Best Year Ever.  I began the year with great goals and high productivity. I was excited about using time blocking to manage my time and increase my results. My personal and professional lives were going along swimmingly.
On April 3rd everything came to a screeching halt. Our daughter and my parents were in a horrific car accident. Thus began a four month ordeal that I will share more about in a future post. I spent weeks at a time in Florida with my family.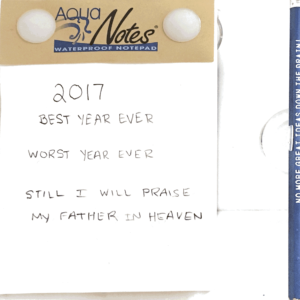 In my shower there hangs an Aqua Notes waterproof pad for jotting down great ideas that often come to me first thing in the morning. At the beginning of the year, I wrote on the top sheet "2017 BEST YEAR EVER." Every time I came home from Florida, that paper would be staring me in the face each morning. I began to wonder if this was the Worst Year Ever.
Although I was tempted to cross out the word "Best" several times with a big X, I did not. I came to see that even in the midst of the worst ordeal of my life, there were still things to be thankful for. I tried to add to my 1000Gifts thankfulness journal. I held on to my faith and searched for moments of serenity amid the stress and exhaustion. I prayed like never before. I sought God and tried to continue to praise Him despite my circumstances.