I've helped my parents decorate several houses and condos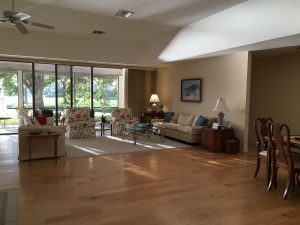 This large room is actually four rooms in one: a living room, a dining room, a game room, and a TV room.  I particularly love the large floral pattern on the armchairs in the living area.  The wall of sliding glass doors opens to a screened porch overlooking a lake on the golf course.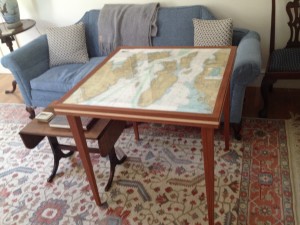 My father loves to do custom woodworking projects in his retirement and often makes things to give to charity auctions.  He made this inlaid lovely card table and I added the chart using modge podge and resin to create a glassy surface.  This one sold at the Conanicut Island Sailing Foundation fundraiser for over $700 and I'm hoping he'll make another one so we can have one of our own.
In one of my first jobs, I was responsible for staging and photography for the interiors of custom yachts.  How I wish I had some photos from those days.